The small screen is our preferred screen. Wherever we go, our convenient little smart computer is handy and there to assist, connect and entertain as and when we want. Mobile and mobile apps clearly have overtaken the good old computer monitor screens that we've been used to for the last couple of decades.
In January this year top free iOS apps were downloaded a whopping 10.3 million times! Records are being broken every month it seems. But downloads aside, are the apps able to retain their users in the short or long term?
According to Localytics the percentage of apps used only once is around 20%, with many games apps having a near 50% chance of being never opened again.
According to a 2014 report from mobile marketing firm Swrve on success of mobile apps, only 26 percent of users are active 24-48 hours from the first session and after seven days the retention rate drops to 13%.
The app market is overcrowded and highly competitive. Thousands of new apps are shouting for attention every day on the app stores. Getting user attention and more so retaining them for long is one huge pain point for most app developers and mobile marketers.
In addition to the problem being faced by app developers, app engagement is becoming more critical for retailers as mcommerce continues on the upswing. Reports show that digital shopping technologies today are influencing 36% or $1.1 trillion of in-store retail sales. (Deloitte study, The New Digital Divide, 2014)
Developing strategies for user engagement methods are crucial to rise above the highly competitive app marketplace. Engagement is a powerful indicator of user preferences and intent; publishers, marketers and retailers must put in all efforts to give the consumer a highly relevant and personalized experience.
Ways to Engage the Mobile Users
Let's take a step back and see what is being done today to improve customer retention. Engagement is the key and re-engagement is essential to get the disengaged users back to the app or get them to use it more frequently. The best strategies to do so involve deep-linking, push notifications, in-app messaging and incentives.
Deep linking is one of the most effective ways to get the user to a specific place within an app that might be most relevant to the users' current task or engagement.
Push notifications can be effective since they show up on the best real estate on mobile – the homescreen – but if not done right, can be annoying to users.
In-app messaging often compromises the overall mobile user experience, but can be effective only when it is highly relevant and contextual to the experience.
Incentives can prompt app usage says Google, Discounts special promotions are often appreciated by users and they are more likely to click on offers that help them in some way.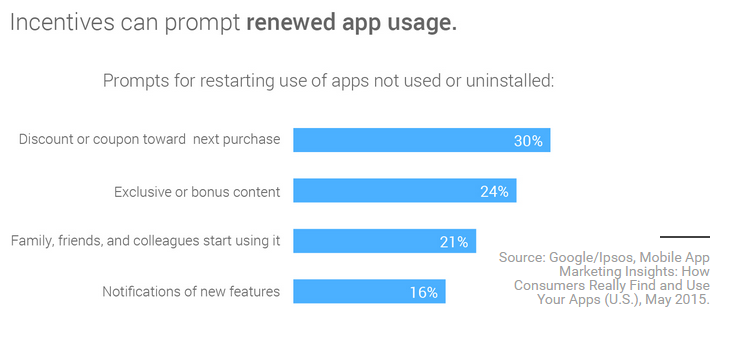 App Discovery and Re-engagement with Xploree
Xploree is bringing in an innovative way to reach and engage users through deep linking opportunities during user conversations on mobile. Driving discovery through user-initiated platform, Xploree can recommend hyper-contextually let's say you app is an e-commerce app and the user is conversing on a messaging app, discussing a product relevant to your domain. The user can now find recommendations leading either to your app's App Store page to download your app or a video to get to know more about the app or a deep link to get to the action in one click.
When users find relevant information in context, the engagement or conversions increases with the user opening that specific information in the app rather than the webpage.
Xploree can help app developers bring visibility to their apps to those users who are conversing or searching for information very specific or close to your app theme. For example, you'd like new users to discover a new word game in the App Store. People searching for games related to "words" will get related recommendations within the App Store search. Such a possibility is also highly effective to:
Remind and encourage users to get back to your app
Recommend specific features or levels in your app (deep links to specific pages within the app)
Engagement is all about building relationships which in return builds trust and loyalty. Xploree is enabling mobile marketers to look beyond installs to bring visibility and engagement to their apps and when done in an unobtrusive way, it brings in way more positive user experience driving happy engagement.
Visit our blog again to know more about how the move to app engagement time as a metric of monetization can give a much higher return on investment as compared to just measuring the number of installs or clicks.
Contact us to know more how we can drive high reengagement for your app.
Connect with us on Twitter (@XploreeMoments) for latest update on #mobilesearch #mobilemarketing and user engagement strategies on mobile.